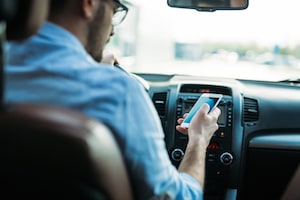 Texting and driving has been illegal in Florida for years, but police officers could not use that as a reason to pull over drivers since it was a secondary offense. However, if a Florida driver was pulled over for another reason, such as speeding, then a citation could be issued for the texting while driving as well.
As of July 1, 2019, Florida became the 45th state to make texting while driving a primary offense. The new law allows Florida law enforcement officers to pull over drivers because of texting and driving – without any other traffic violation. It can be used as grounds to be stopped by a police officer.
While the new law has been in effect for over six months, law enforcement agencies agreed to give drivers a grace period through December 31, 2019. Verbal warnings were issued in lieu of a citation. Still, within those six months, Florida Highway Patrol states it issued 1,087 warnings with at least 1,220 citations issued statewide by all law enforcement agencies for texting and driving – staggering high numbers that truly substantiate the need for the new texting while driving law.
But now that the grace period is over, Florida drivers who are caught texting while driving will be issued a citation without warning. And as with any law, there are several caveats you should know:
Drivers are still allowed to use their phone's Bluetooth-enabled GPS, make hands-free phone calls, and read emergency messages such as weather alerts (exception to follow in point #3).
Drivers are allowed to text when behind the wheel only if the car is stopped – including at a red light.
Drivers CAN NOT text, type an address into their GPS or do anything that requires a touch of the phone unless for emergencies when in active school and work zones. Wireless Bluetooth-enabled GPS and calls are allowed, so long as you do not have the phone in your hand.
A first violation will incur a $30 fine plus court fees with no points against your Florida driver's license as it does not go on your driving record.
A second violation within a five-year time period is considered a moving violation and will incur a $60 fine plus court fees with three points against your Florida driver's license that remains there for three years.
If you are in violation of the law within an active school and/or work zone, violators will incur a $60 fine plus court fees and three points on your driver's record, even if it was your first offense.
There are so many reasons for you not to text while driving – the most important being the safety of you and others around you on the road. If that isn't enough for you, any points you have on your license will affect your car insurance. Studies show that people who drive while texting are eight times more likely to be in a car accident and the insurance companies are not in favor of those statistics for the drivers they insure. With an estimated 51,000 car accidents in Florida during 2016 attributed to distracted driving (including many fatalities), the new law aims to reduce the risks on the road.
If you are involved in a car accident due to someone's distracted driving – including texting while driving – call our offices immediately so we can help protect you.
The personal injury attorneys at the Gainza Law Group in Fort Lauderdale have unparalleled experience with car accident cases in Florida and have been extremely successful in recovering damages for their clients. We understand that it is important to hold accountable of your injuries all of the people or entities that may have contributed to them. The skillful personal injury attorneys at the Gainza Law Group are ready to help you fight for all of the compensation that you deserve. We can take your case all the way to trial if needed to maximize the money that you receive. Our personal injury team will handle everything with insurance companies, reports, bills and more.
When you need a personal injury lawyer you can trust to fight for your justice while also showing you the ultimate personal service and compassion, call the legal team at the Gainza Law Group. Our attorneys and staff are available 24 hours and here to help you and your loved ones.
Gainza Law Group
Fort Lauderdale Personal Injury Attorneys
5975 N Federal Hwy #127
Fort Lauderdale, FL 33308
(954) 463-1210