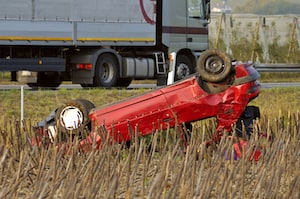 Personal injury attorneys handle a plethora of different types of legal cases from dog bites to auto accidents and slip and falls. But when it comes to a car accident involving a commercial truck, you need an experienced personal injury attorney who knows exactly how to maneuver through the complex insurance and liability issues ahead.
Injuries resulting from auto accidents involving commercial trucks are usually far worse than the common fender bender. Just the sheer size of most commercial trucks is enough to do significant injury to both the vehicle and person.
The attorneys at the Gainza Law Group will work tirelessly on your behalf to get the justice you deserve. While our team will help you with obtaining evidence to help support your case such as driver logs, truck maintenance records, computer and GPS records, we will need some help from you as well.
What you do immediately following an auto accident involving a truck can make a significant difference in your case. Here's a few things you should be sure to do:
Move Your Car and Self To A Safe Spot – If possible, move your vehicles to the side of the road to avoid any further accidents. Always be sure to stand far away from your car if you are on the side of the road to avoid potential injuries to yourself and others in case any passing cars swerve off the road while you are waiting for responders.
Call The Police – We advise you to always call the police after a car accident despite how minimal your injuries or damages to your vehicle may be. The accident should be properly documented, a report made, and information recorded and exchanged.
Take Pictures – It is important for you to take pictures of the accident scene, damages to all vehicles involved, identification of all vehicles involved and any significant markings on the truck that may pose safety concerns. This could be crucial evidence in your case that only you can collect.
Seek Medical Attention – Should you require emergency medical attention, call 911 or go to your nearest clinic to get examined if you are not seriously injured.
Limit Communication – Speak only with your attorney and doctors – do not speak with anyone from the trucking company or any insurance representatives before consulting with an attorney.
Contact a Personal Injury Attorney – Auto accidents involving a commercial truck can be very complicated and you will need an experienced attorney like the Gainza Law Group to manage your legal claims.
Truck accidents are very different from your typical car accident cases and you will need a personal injury attorney who will help protect your rights and ensure you get all compensation you are legally entitled to. Truck accidents involve different legal principles than typical car accident cases and it is crucial your attorney has this specific experience.
The personal injury attorneys at the Gainza Law Group in Fort Lauderdale have unparalleled experience with car accident cases in Florida involving trucks, and have been extremely successful in recovering damages for their clients. We understand that it is important to hold accountable of your injuries all of the people or entities that may have contributed to them. The skillful personal injury attorneys at the Gainza Law Group are ready to help you fight for all of the compensation that you deserve. We can take your case all the way to trial if needed to maximize the money that you receive. Our personal injury team will handle everything with insurance companies, reports, bills and more.
When you need a personal injury lawyer you can trust to fight for your justice while also showing you the ultimate personal service and compassion, call the legal team at the Gainza Law Group. Our attorneys and staff are available 24 hours and here to help you and your loved ones.
Gainza Law Group
Fort Lauderdale Personal Injury Attorneys
5975 N Federal Hwy #127
Fort Lauderdale, FL 33308
(954) 463-1210
Personal Injury Attorneys Juan Gainza and Hilda Ramirez-Gainza