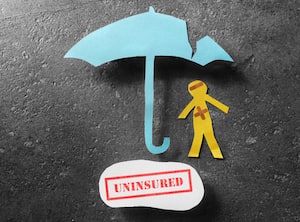 Car insurance is one of the most common purchases for American drivers – or is it? According to the latest data available, roughly 13 percent of drivers in the United States do not carry insurance. This number is quite high considering that car insurance is a fundamental requirement for vehicle registration purposes in almost every state – including Florida.
Yet it should be no surprise that Florida leads the nation with over 25 percent of drivers on the road lacking insurance. Therefore, Florida insurance companies sell additional auto insurance coverage which can protect you and your family should you be a victim in a car accident caused by an uninsured driver – this is known as Uninsured Motorists (UM) and Underinsured Motorists Coverage (UIM).
In a perfect world, everyone driving in Florida would carry enough coverage, known as Bodily Injury Liability (BI), to compensate for any medical bills. Unfortunately, that's not our reality. In fact, Florida does not mandate drivers to carry any BI at all. Additionally, we find that most drivers who do have BI, do not carry sufficient coverage to fully compensate our clients' injuries.
So if there is no insurance company to sue or not enough coverage on the third party to cover your injury expenses, what do you do? Unfortunately, chances of recovering any damages and restitution are slim to none and a personal injury attorney is most likely unable to take on your case.
Uninsured Motorists coverage will provide you with insurance coverage for damages caused by the negligence of a driver of a vehicle that does not have insurance. UM also protects you when you're not driving. Uninsured Motorists coverage also protects you when you are not driving but perhaps struck by a car while walking or riding bicycles. It will also protect you in the event of a hit and run. UM and UIM can be used to pay for medical expenses, lost wages, future loss of earning potential, and more.
Unfortunately, some insurance agents don't explain the importance of UM and UIM coverage to their clients. Many agents are trying to get the best price point for their clients and prefer to decline the additional insurance in order to save dollars. However, we hope that this information we have provided you with will make you think otherwise!
In conclusion, we highly recommend that you purchase an auto insurance plan with Uninsured Motorists and Underinsured Motorists Coverage. Consider it as you are insuring yourself against the uninsured – double protection! It is extremely important to have this extra coverage for you and your family – especially here in Florida.
If you have any questions about Uninsured Motorists and Underinsured Motorists Coverage, or any other aspects of your car insurance, give our office a call. We don't sell insurance, but we have seen thousands of plans and can share with you our experiences from this.
The personal injury attorneys at the Gainza Law Group in Fort Lauderdale have unparalleled experience with car accident cases in Florida and have been extremely successful in recovering damages for their clients. We understand that it is important to hold accountable of your injuries all of the people or entities that may have contributed to them. The skillful personal injury attorneys at the Gainza Law Group are ready to help you fight for all of the compensation that you deserve. We can take your case all the way to trial if needed to maximize the money that you receive. Our personal injury team will handle everything with insurance companies, reports, bills and more.
When you need a personal injury lawyer you can trust to fight for your justice while also showing you the ultimate personal service and compassion, call the legal team at the Gainza Law Group. Our attorneys and staff are available 24 hours and here to help you and your loved ones.
Gainza Law Group
Fort Lauderdale Personal Injury Attorneys
5975 N Federal Hwy #127
Fort Lauderdale, FL 33308
(954) 463-1210