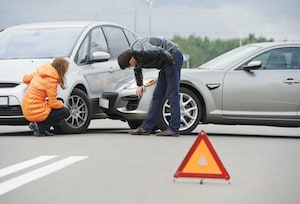 There are some situations in life that rock our worlds no matter how hard you may prepare for them. Being in a car accident in Florida is one of those life-altering situations.
Most people find themselves confused and distraught immediately following the accident. Between the other parties involved, police and emergency responders, everything can become very hectic after an auto accident.
When you have been in a car accident, it's important that you stay calm yet remember a few specific things that are very important for you to act upon.
Here are six things you need to do to protect yourself after a car accident:
Move Your Car and Self To A Safe Spot – If possible, move your vehicles to the side of the road to avoid any further accidents. Always be sure to stand far away from your car if you are on the side of the road to avoid potential injuries to yourself and others in case any passing cars swerve off the road while you are waiting for responders.
Call The Police – We advise you to always call the police after a car accident despite how minimal your injuries or damages to your vehicle may be. Beware of a third party offering to exchange information and/or agree to fix or have your car fixed out of pocket by the other party. The accident should be properly documented, a report made, and information recorded and exchanged. There is no reason for you to have to speak to the other party other than to make sure they are medically OK – only speak to the police.
Take Pictures – It's important to collect as much evidence at the scene of the accident as possible if you are able – photos of the intersection, roadways, hazards and anything else that may be of significance to the case. Most importantly, take pictures of not only your vehicle, but also of the other parties' vehicle damage.
Get Witness Information – If any witnesses stop to offer assistance or provide a statement, be sure to get their contact information so they may be reached in the future if needed. Having accurate witness testimony can be extremely valuable when proving fault of the accident.
Seek Medical Attention – If you require immediate medical attention for any serious injuries, then of course, you should go directly to the hospital. However, if you are not seriously hurt and in need of ambulatory assistance, we suggest you see a doctor the same day or the next. Do not wait long since Florida law states you must seek medical treatment within 14 days of the accident in Florida to qualify for your PIP benefits.
Call Our Office – It's important that you call our offices as soon as you can – even from the accident scene if you need to. Florida laws are extremely complex and insurance companies are never easy to deal with. It's important for you to speak with one of our experienced Florida personal injury attorneys who will help you every step of the way after your car accident.
The personal injury attorneys at the Gainza Law Group in Fort Lauderdale have unparalleled experience with car accident cases in Florida and have been extremely successful in recovering damages for their clients. We understand that it is important to hold accountable of your injuries all of the people or entities that may have contributed to them. The skillful personal injury attorneys at the Gainza Law Group are ready to help you fight for all of the compensation that you deserve. We can take your case all the way to trial if needed to maximize the money that you receive. Our personal injury team will handle everything with insurance companies, reports, bills and more.
When you need a personal injury lawyer you can trust to fight for your justice while also showing you the ultimate personal service and compassion, call the legal team at the Gainza Law Group. Our attorneys and staff are available 24 hours and here to help you and your loved ones.
Gainza Law Group
Fort Lauderdale Personal Injury Attorneys
5975 N Federal Hwy #127
Fort Lauderdale, FL 33308
(954) 463-1210