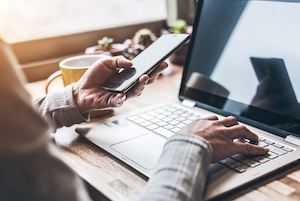 With the introduction of COVID-19, our world was changed overnight. Many people found themselves trying to adjust and transition into new routines and ways of doing business.
Fortunately, our personal injury team at the Gainza Law Group has been assisting clients and managing their car accident cases virtually well before the pandemic. Working contact-free with clients is not unfamiliar territory to us. We have successfully been able to manage and maximize both the client's case and our personal relationship with them virtually.
From your first initial call to our personal injury team in Fort Lauderdale to the sign off of your settlement, we are able to help you from a distance.
Virtual Sign-Ups
Our personal injury team offers you a free consultation over the phone or through video chat. When you agree to have our team represent your personal injury case, you will receive a sign-up package via a secure system for you to digitally sign. Hard copies can always be made available to our clients upon request.
Contact-Less Recovery Options After A Car Accident
While many health care providers have restricted their hours and operations due to the COVID19 pandemic, we have identified several local medical providers to provide you with medical services needed after a car accident. It is very important that you seek medical care within 14 days of your car accident in order to receive your full PIP benefits. We can assist you with scheduling a virtual appointment with a qualified medical professional.
Our legal team will communicate with any adjustors or other parties involved in your case. We work with insurance adjustors who provide inspections without having to come in contact with our clients.
If necessary, we will facilitate a contact-less inspection of your vehicle with the insurance adjustor. An appraisal can be done at the client's home with proper social-distancing procedures or auto body shop.
We will help to facilitate a contact-less way to get your car back to you including any inspections or sign-offs that may be required.
Virtual Communications For Personal Injury Clients
Our personal injury team utilizes several different avenues for virtual communication with our clients including a secure email system, phone calls, courier services and video conferencing. We make it as easy as possible for you to stay in touch with us and ensure that you feel fully supported while we work diligently on your case.
Our attorneys at the Gainza Law Group will review your case with you on a regular basis and provide options to seek medical treatment for any injuries you may have sustained after a car accident.
Contact-Less Settlements For Personal Injury Clients
When our attorneys have obtained an acceptable settlement for your case, we will provide you with all of the final closing statements and documents. All parties can sign these documents in a digital format and have access to a hard copy as always.
Our personal injury team provides our clients several contact-less ways to receive payment of your settlement and will be reviewed with you upon completion of your personal injury case.
Now more than ever, the procedures following a car accident in Fort Lauderdale are extremely complex and insurance companies are never easy to deal with. It's important for you to speak with an experienced Fort Lauderdale personal injury attorney who can help guide you through the process.
If you are involved in a car accident or have any questions about a legal matter, call our offices immediately so we can help protect you.
The personal injury attorneys at the Gainza Law Group in Fort Lauderdale have unparalleled experience with car accident cases in Florida and have been extremely successful in recovering damages for their clients. We understand that it is important to hold accountable of your injuries all of the people or entities that may have contributed to them. The skillful personal injury attorneys at the Gainza Law Group are ready to help you fight for all of the compensation that you deserve. We can take your case all the way to trial if needed to maximize the money that you receive. Our personal injury team will handle everything with insurance companies, reports, bills and more.
When you need a personal injury lawyer you can trust to fight for your justice while also showing you the ultimate personal service and compassion, call the legal team at the Gainza Law Group. Our attorneys and staff are available 24 hours and here to help you and your loved ones.
Gainza Law Group
Fort Lauderdale Personal Injury Attorneys
5975 N Federal Hwy #127
Fort Lauderdale, FL 33308
(954) 463-1210